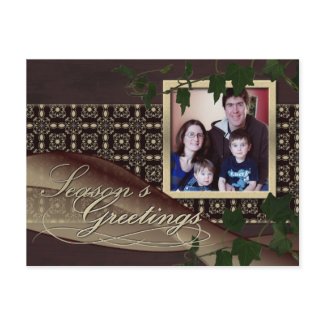 Well, it's a little early to be thinking about the holidays, but honestly, who am I kidding, as soon as the weather starts to cool off and the kids start school, that's all I can think of. I guess it's because the holidays make me feel warm. It's so nice to have the family around the fireplace and just to hang out with everyone. It just brings back fond memories from when I was a kid. Cuddled up on a couch with my mom rubbing my feet.
So, when it was time to start designing holiday cards, a picture with the family wrapped in a classy design was the first thing that came to mind. And I just love the warm feeling of the chocolate brown.
Then there is the classic snowflake. But, I think these designs capture a sense of class. A nice transparent snowflake background with gold accents is perfect for the holiday season. I especially like the snowflake accents in the corners with the gold ribbon. It makes me think of opening a gift on Christmas morning. I also love the postcard with the red boards and mistletoe carved into it. It gives a really homey feeling.