It seems strange creating wedding designs for fall and winter when if feels like summer has just started. However, people generally send out their wedding invitations only a few months in advance, so it is time to start creating a few designs that cater to these seasons.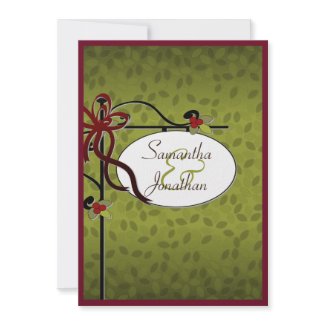 I thought this
leafy design
was really cute. It took awhile to design the leafy background. Unfortunately, I didn't have one on file, so to the drawing board I went. It's nice though once you have your layout and design all figured out. From there, it's simple changing of colours. I love the select by colour tool. It is one of my favourite tools. And of course, who could possibly design without layers. Occasionally, I will forget to save my file with my layers. It's so disappointing when I have to go back to edit something or change colours, to find out that I have to start over again.
Looking back at old designs, I'm happy to see that I definitely have some designs that suit the fall and winter seasons. Here are some of my favourites.